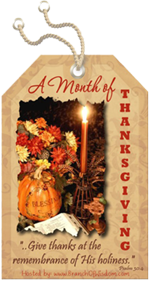 Indoor Plumbing
Yes, it may seem obvious, but indoor plumbing is a blessing. Really. There are so many people in our world who still do not have indoor plumbing. When they wake up in the middle of the night to go to the bathroom, they have to go outside
no matter how cold it is.
Now, I don't know about you, but if I get cold, I have a hard time falling back to sleep. I cannot imagine having to bundle up to go out to relieve myself.
In fact, even though the temperature dropped in October and many people around me turned their furnaces on a month ago, we just turned ours on November 1. Until then, the temperature in our house ranged between 60-65. I woke up one night to go to the bathroom and
it was cold!
I was so thankful that I didn't have to venture outside.
What are you thankful for today?
Have you stopped by
Branch of Wisdom
to share your blessings?