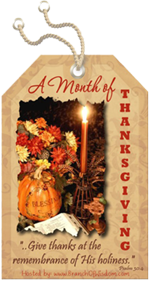 The difference between a deep breath and a shallow breath

Is it OK that what I am thankful for today is totally selfish? It's been one of

those

days. You know, the ones that you would like to just stay in bed under the warm covers, when you just want to tell everyone to leave you alone. Have you ever wanted to tell your kids that?

Is that just me?

I always have a hard time when it's that time of the month. No, not

that

time. The beginning of the month,

when I pay the bills.

Years ago, we got on a monthly bill paying routine. Not

as the bills come in

as some families do, not twice a month to correspond with paychecks. Nope,

the beginning of the month.

See, we both used to work full-time and we got paid once a month. It's hard to get on that schedule because initially there are a few weeks with no pay (because the pay comes after the work.) It was so hard to get onto this schedule that I decided we'd just stay on it so we won't have to do this again if our pay schedule changes again.

What's the big deal, then, right? We're already on this schedule. It just takes so long to get everything organized and write all those checks*. And I actually balance my checkbook. About 2 hours of my undivided attention.

If you're a mom, you know that time is almost impossible to come by.

I try to have everything paid by the 5

th

.

Today is the 5

th

.

I couldn't get it done sooner because we have a Monday evening activity, Tuesday Hubby was working the election, and Wednesday Hubby has a night out. So, I did it last night. It was exhausting. And I didn't even get into the stress of praying that our budget stayed within the parameters of our income.

So, this morning I just wanted to stay in bed. And I took a deep breath. How many other jobs can you sneak off and enjoy some peace and quiet at lunch? Not this one. I wanted to quit. I wanted to send my kids home after school, except they were

already

home. I took a deep breath.

Several times today I took a deep breath. I've felt like I'm on the verge of a panic attack all day,

so I keep taking deep breaths

. It's helped. I learned about this when I took childbirth classes. Taking short, shallow breaths can actually reduce the intake of oxygen, thereby increasing the level of pain and inhibiting the ability to focus. Long, deep breaths, on the other hand, increase the flow of oxygen and reduce the level of pain. My middle daughter has been learning about various types of breathing to help her focus and reduce her stress.

So, today, I am thankful for the difference between a deep breath and a shallow breath

because it helped get me through the day. And I am praying for a relaxing and refreshing weekend!

*For those of you who will question why I still write checks and balance a checkbook, let me explain that I am a former software developer and my husband is in the network security profession. We are all too aware of security breaches, computer glitches, and developer error (although most developers are too arrogant to admit to that one.) Additionally, I have heard stories from others about how banks would rather pay the fines for the loopholes in their systems rather than pay the cost to correct them. Additionally, when I balance my checkbook, I only have my own risk of error, not countless others involved. So, if you are comfortable with those risks, that is your choice. I will stick to mine.

Thankyouverymuch

.

Many others are counting their blessings, too. To read what others are thankful for today, hop on over to

Branch of Wisdom

.