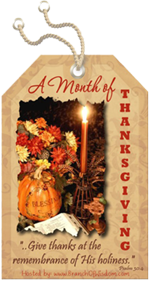 Being able to bless others.
Through participating in this blog meme, I find myself noticing various blessings throughout the day - trying to notice them. Asking myself,
"Will this be the blessing about which I write today?"
It was a little harder today to come up with something different. I have ideas in my mind that I would like to include, but then it was put before me, right in front of my very eyes.
Last night I received a text message from my neighbor. She was giving me a heads up to keep an eye on my kids because hers have strep throat. So far, we've been fortunate to not have strep throat. I'm hopeful that we won't this time either. However,
they still have strep throat.
That means crabby kids, parents who may not feel well or who might be exhausted from taking care of kids who feel crummy.
Yesterday I had a hankering for a baked chicken.
I love baked chicken.
I usually have a little over 1/2 a chicken to freeze or use within the next few days. I also usually make a
crock pot
full of broth from whatever isn't used for leftovers, which is what I did overnight.
Perfect timing.
God's timing.
Today I made chicken noodle soup. A huge pot of chicken noodle soup. At close to dinner time, I took a pot of soup to my neighbors. Jesus has taught me
to love my neighbor as myself
and I know I like chicken noodle soup on a cooler day when I'm not feeling well.
I am thankful for having opportunity to bless someone.
We are
supposed
to share The Lord's blessings with others. I am thankful, too, that they accepted the blessing.
I thought it was neat that my friend,
Annette at Our Ordinary Life
, posted today about
the blessing of others who help
. It's great how God intertwines our lives and brings us together to be helpful and also to be in a position to be blessed by helpfulness.
Many others are counting their blessings, too. To read what others are thankful for today, hop on over to
Branch of Wisdom
.