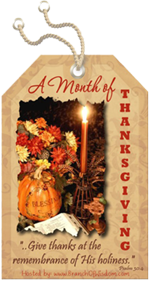 Simplicity
. The more stuff, things to do, things to keep track of, etc., the more distracted I am and not only do I not feel blessed, but I forget
to look for the blessings
. When there isn't a lot going on, when I purge and reduce the stuff in my life, when I have time to focus, time to spend with my girls and my husband without pressure to do anything, clean anything, or put anything away I realize the blessings more
and I appreciate them more.
I have way too much stuff and it has become a burden to me. So all this "stuff" that I have will, prayerfully, become a blessing for others as I work on purging it out of my life.
I am working to simplify what we do and how much we do. It's so easy to over-schedule and do too much running around. I am simplifying and it is a blessing!
Many others are counting their blessings, too. To read what others are thankful for today, hop on over to
Branch of Wisdom
.