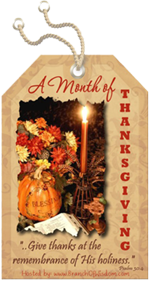 So many things are taken for granted. Things I do every day. Things
I
expect. It's the unusual that easily gets my attention and causes me to pause and be thankful. Today, I am diving into some of those things I take for granted and including just a few situational things for which I am thankful.
We had massive winds yesterday and today in the
Chicagoland
area. I am thankful for the wind and also thankful that we did not sustain any serious damage to my family our home.
I am thankful to have
internet
access. I didn't realize how thankful until it went out so many times today.
I am thankful to have my sight.
I am thankful to be able to taste and smell.
I am thankful to be able to hear my children (even when they are slamming doors, as they are right now.)
I am thankful to have feeling and feelings. I love to touch the faces of my daughters. Their soft skin, silky hair, and their strength when they give bear hugs.
I am thankful that I can read and comprehend and that my children can as well.
I am thankful that my memory is good. It's not the best, nor is it as good as it used to be, but I remember (most of) the important things. I do not have one of those amazing "can remember everything" memories, for which I am also thankful. I think it would be more of a burden than a blessing.
And, lastly for today, I am thankful that the world is full of unique individuals. Can you imagine if we were all the same? I'd rather not.
To read what others are thankful for today, hop on over to
Branch of Wisdom
.