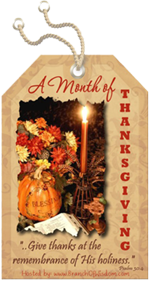 I received a comment on yesterday's "Counting my blessings" post that, in summary, mentioned that she hopes I get out of my rut soon. I just want to clarify that I am not currently in a rut. Unfortunately, I know ruts well. When I said that sometimes I don't want to hear about others' blessings or have a hard time coming up with my own, I was being honest. Sometimes that's true. Not lately, but I know myself well enough to know that
I do
feel that way sometimes.
Usually in February
. Honestly, I have yet to find those ruts a blessing, although I hope that by being able to relate to others, I can be a blessing to others when they are in a rut.
"He comforts us in all our troubles so that we can comfort others. When they are troubled, we will be able to give them the same comfort God has given us.
2 Corinthians 1:4
Because I know ruts well, I am trying to write my blessing and thankfulness purposefully so that when I am in a rut, I can review these and be reminded of my blessings.
Today I am thankful for the innocence of childhood. Yesterday we saw a play based on a children's picture book. My 10-year old, fifth grade daughter smiled from ear to ear the whole time. She was excited when the beach balls came out and bounced around in the audience and she eagerly participated in the activities that included the audience. She thoroughly enjoyed it and shared in the excitement of her younger sister.
* I am also thankful for the beauty of autumn and the fun of carving pumpkins.
* I am thankful that God gave us a delightful snack inside pumpkins - the seeds!
* I am thankful that my oven has been working just fine since the time a couple weeks ago when it didn't.
* I am thankful to wind, even when strong. It carries seeds far away to surprise someone in their garden.
* I am thankful for the women in my Bible study and for the opportunity to participate in Bible study (and the childcare provisions that are available) and the freedom to worship God and speak freely about Jesus in our country.
* I am thankful that my kids don't drive me crazy *all the time*
* I am thankful for the outlet of blogging and reading blogs!
To read what others are thankful for today, visit
Branch of Wisdom
.