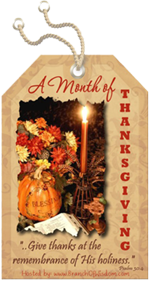 Today I will keep my blessings simple in only listing one. I know there are so many more that this one, but I don't want to detract from the real blessing that this one is for me and my family.
I am thankful for my neighbor.
I have wonderful neighbors all around me. Ones with children with whom my girls play. For them I am thankful, too. But this neighbor especially is a blessing to me.
Her name is Rosalie.
Rosalie is 92 years old. She turned 80 the year we moved into the house. Around 2005, we put up a fence, separating her yard from ours and I was sad. It was only because my youngest-at-the-time would bolt for the street and we were concerned for her safety. We decided a privacy fence would be best so that those driving by wouldn't see our girls playing in the yard,
because I'm paranoid like that.
Rosalie understood.
In order to not totally cut ourselves off from Rosalie when we are in the yard, we decided to have that side of the fence be different. It's only about 3 feet tall in the back (that part was already there when we moved in), so we chose to make it 6feet in the front and curving around the side, but only 4 feet on the rest of that side between us. The plan was to use lattice for the other 2 feet, so we could still see and talk through it. That has yet to happen.
I love when we are in the yard and Rosalie is outside. We both come to the fence and visit. The kids are old enough to climb over that 4-foot barrier and Rosalie doesn't mind. She says to let them climb and play in her yard,
they're kids
. She doesn't mind the shrieking and running and chasing.
They're kids. They need to do that.
She is so understanding. Every now and then as we are getting ready to go somewhere, Child B or C will disappear. They've gone to say hello to Rosalie. The other day we ran into Roslie in the library and she hurried over to give my girls a hug. It totally made their day. You should see the smiles on their faces when they are around Rosalie.
They love her and I love Rosalie.
Rosalie is a blessing to me. Knowing her, hearing her stories of growing up on a farm, how she was able to attend college, of her nursing career, of who lived in my house over the years and their lives, and stories about her son and grandchildren. I could listen to her for hours. She is so down to earth and funny if you listen carefully.
I am thankful for Rosalie.
To read what others are thankful for today, hop on over to
Branch of Wisdom
.